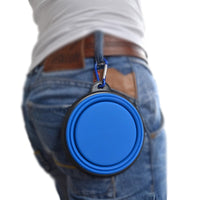 Dog bowl for on the go. Whether long walks, a road trip or a visit to the dog park. Our faithful companions get thirsty quickly and often and need to stay hydrated at all times. Quench your dog's thirst on the go with our foldable outdoor dog bowl.
📦 Small, compact and practical: your new outdoor dog bowl has a carabiner so you can easily attach it to your pants or bag. The foldable design makes it easy to store and it hardly takes up any space.
♻️ Made from high quality materials: Our outdoor dog bowl is not only small, compact and practical. It is also made from food grade silicone. This is how we guarantee a tasteless and odorless drinking bowl for your dog.
Order your new dog bowl now and be well prepared for long walks!