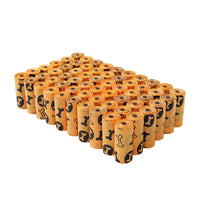 These days we care a lot about eco-friendliness and recycling, why not with something extra in the bag? Made from natural materials, our poop bags degrade easily and bring great value to nature.
♻️ Good for the environment and nature: Our poop bags are biodegradable and are made exclusively from recycled materials. In just a short time, the bags degrade and become part of nature, providing plants with reusable materials.
🔗 Safe & Convenient: All poop bags are 100% leak proof so you don't get dirty hands. The rolls fit in any standard bag dispenser, are easy to tear off, open and knot. All this ensures a stress-free walk with your favorite four-legged friend!
Order now and take care of the environment with biodegradable and recycled poop bags!