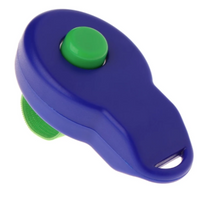 Has your dog clicked yet? When training dogs, it is important to reward your dog promptly after the correct behavior. Timely means a maximum of 2 seconds. A finger clicker signals "Well done - now comes the reward!".
🐶 Teach your dog new tricks easily: A finger clicker helps to get used to new tricks by extending the reward period. In the time you use the clicker , you gain enough time to get the corresponding reward from your pocket.
✋ Easy to use and a great design: Made of sturdy plastic and available in two attractive colors, our finger clicker adapts perfectly to your finger. The compact size of only 7 x 3.5 cm allows you to take your clicker with you anywhere.
Order now and quickly get your dog used to new tricks!